Great
Pyrenees
---
---
Beauregard Richards (AKC Euzkotar Blade Runner) is a Great Pyrenees Mountain Dog. He is owned by Eric and Susan Richards. His housemate is Bella.
Beau has the following achievements: Canine Good Citizen, American and Temperament Test.
---
Latest Pictures
---
Beau, the Bubble Slayer

Beau up in the air with Bella watching.
Beau up on his hind legs.
The instant before Beau dispatches this bubble.
Off the ground, in the air, out of the picture.
Hey, watch it, Beau, you're headed right for me--

Out and About

Beau and Bella pausing during a park hike
Backyard play time.
Susan, Beau, and Bella starting a hike in Washington Park
A Portland fountain discovered during a club Pyr walk.
---
Teenager!
---
Various Pictures

Beau cooling down in June Lake (Mt. St. Helen's, Washington).
Beau grins for the camera while sitting on the deck.
Beau strapped to a cart and ready to go to work.
Beau standing nicely in our back yard.
Beau with his new best friend.
Beau standing in our first snow of the season. Yahoo!
Beau and Austin, a dalmatian.

Showing Beau in 1996

Beau and the judge in the national show ring.
Beau getting ready to show at Brush Prairie.
Beau getting some loving encouragement before going into the ring.
Beau and Susan in the ring (Banks, Oregon).
Beau came in first!

---
Closing in on His Teens
---
Black and White (Nine months)

"Could I do any wrong?"
A proud boy being alert.
Something must look tasty!
Susan's beautiful Beauregard.

Let it Snow!!! (14 months)

Beau's first snow, and first snowflake in the eye.
Beau wondering if this is all the snow for the day.
Composite of Beau in action.

Various Pics

Beau under the rainbow (yet another bad puppy-hair day).
Beau waking Shadow (the only cat here that tolerates him) with his nose.
A nice summer day pose at Mount Tabor in Portland.
Beau and Jim underneath a deep blue sky at Sandlake.
My Dad and Beau on the deck.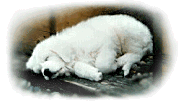 ---
The Puppy Days...
---
Little Beau asleep on the cool, cool rocks...
Back when a milk jug was big and drug the ground!
Susan and a too cute Beau (standing tall)
Low-angle shot of Beau trotting head-on.
Beau and Susan surveying a sunny Washington Park.
A kiss for the bearded man (me).

Something about that puppy Pyr hair!
Adoration for Susan.
A pose around the scene of puppy destruction.
"Gimme that towel -- I'm some kind of cute!"
Beau and his litter: our first visit to Beau's breeder. Beau is in the back.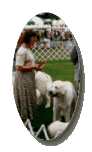 ---
Brush Prarie 1995
---
Susan and Beau ready to go into the ring!
Match one, waiting line-up (Beau is last on the right)
Beau to the left, his brother Karlo to the right.
The line-up (Beau was third!).
Beau being checked by the judge.
Beau comes in second! Karlo to the right, Loki to the left.
---
Eric J. Richards